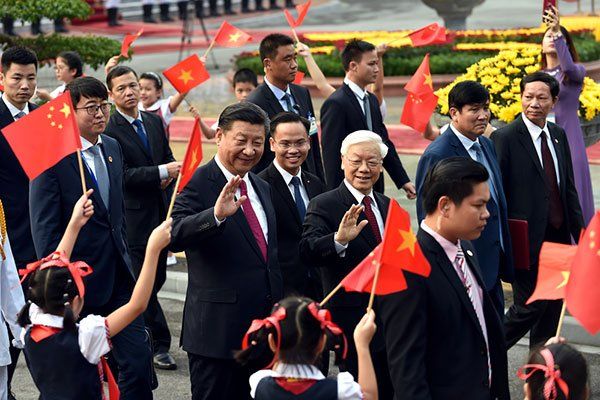 China's Party General Secretary and President Xi Jinping and Vietnam's Party General Secretary Nguyen Phu Trong wave to Vietnamese children at the Presidential Palace in Hanoi on November 12
HANOI – Vietnam and China agreed to develop cooperative mechanisms in the fields of trade, infrastructure and finance to bring bilateral trade to US$100 billion this year.
Vietnam's Party General Secretary Nguyen Phu Trong and China's Party General Secretary and President Xi Jinping witnessed the signing of 19 deals on November 12 to help both sides reach the target.
Those include a memorandum of understanding (MOU) on boosting connectivity of the "Two corridors, one economic belt" framework with the "Belt and Road" plan, a MOU on speeding up negotiations for the framework agreement on building border economic cooperation zones, and another on establishing a working group for e-commerce between the Vietnamese Ministry of Industry and Trade and the Chinese Ministry of Trade.
During the talks on November 12, Trong appreciated China's participation in and contributions to the success of the APEC Economic Leaders' Meeting 2017. Meanwhile, China's top leader expressed his delight at visiting Vietnam again right after the Communist Party of China's 19th National Congress.
He congratulated Vietnam on successfully organizing the APEC Economic Leaders' Meeting as well as the meeting's outcomes in fostering development in the region and the world.
During their talks, the two Party chiefs informed each other of their respective country's situation, and discussing and agreeing on major orientations and measures to boost the relations between the parties and countries in the coming time.
They said they are delighted at positive developments in the Vietnam-China comprehensive strategic cooperative partnership, as evidenced by the regular high-level meetings, and intensified cooperation between ministries, localities and the two peoples.
The two countries remain each other's important economic partner, while trade, investment and tourism ties have enjoyed growth, and border situations on land and in the Gulf of Tonkin have basically been stable.
Trong proposed that the two countries properly settle issues related to fishing vessels and fishermen, manage, protect and use water resources along the shared border in a sustainable manner, while working closely to control floods, ensure nuclear safety, and create optimal conditions for road, railway and airway transportation.
Vietnam and China should boost win-win partnership in areas of China's strength and Vietnam's demand, including agriculture, environment, climate change response, science-technology and transportation, he said.
The Party leader also underscored the necessity of safeguarding lasting peace and stability to minimize risks of instability, and building trust in the settlement of East Sea issues between the countries concerned, saying this will benefit all sides involved as well as the region and the world.
All parties should exercise restraint and not make any moves that would complicate the situation or intensify disputes, while respecting legitimate and legal rights of each other, and focusing on maintaining peace and stability at sea to prioritize socio-economic development tasks.
He proposed that Vietnam and China fully and effectively implement the agreement on basic principles guiding the settlement of sea-related issues and the Declaration on the Conduct of Parties in the East Sea, in parallel with soon conducting the practical negotiation for the building of an effective and efficient Code of Conduct in the East Sea.
Xi said both sides should view bilateral ties with a strategic and long-term vision, thus developing a stable, healthy and sustainable relationship to benefit both countries and contribute to peace, stability, development and prosperity in the region.
He vowed that China will continue providing non-refundable aid worth 600 million Chinese yuan in three years to improve social security in Vietnam's north.
China will spare no effort to soundly manage conflicts at sea to maintain peace and stability in the East Sea, Xi stressed, affirming that China wants to work with ASEAN to implement comprehensively and efficiently the Declaration on the Conduct of Parties in the East Sea, and negotiate and build the Code of Conduct of Parties in the East Sea.