E-commerce threatens to upend the Top 100 Importers rankings.

Although the vast majority of the companies on the Top 100 Importer and Exporter Rankings in 2015 made repeat appearances in 2016, radical changes in the way consumers seek out and ultimately purchase goods means big changes could be in store for these rankings next year.
The changes hitting the retail sector as a result of e
-commerce are happening so quickly and so intensely that it's possible that regular mainstays of the Top 100 Importers list could fall off the rankings, or fall apart entirely.
Retailers, which face mounting pressure from Amazon and e-commerce, hold 34 spots on the Top 100 Importers rankings and three spots on the Top 100 Exporters list.
A look at two companies - Sears and Wal-Mart - highlights the perils facing the retail industry, and possible paths to safety.
Sales at Sears stores and its Kmart brand fell 9.3 and 7.4 percent, respectively, last year, a worse performance than other retailers on the Top 100 Importers list. For example, sales at Macy's were down 3.5 percent in 2016, and sales at J.C. Penney slid 0.6 percent. Payless Shoes is another Top 100 Importer hard hit by the
changing market, filing for Chapter 11 bankruptcy protection and closing 400 stores. Amazon, meanwhile, increased net sales 27 percent in 2016.
As traditional retailers and big-box companies struggled to adjust to the demands of online shoppers over the last several years, many have announced plans to close hundreds of stores in order to lower their costs and direct more resources to e-commerce. E-commerce sales continue to escalate, expanding 15.2 percent year-over-year in 2016, according to data from IHS Markit. At the same time, general merchandise retail sales declined 1.1 percent, and clothing and accessories retail sales fell 6.4 percent.
Last year, e-commerce accounted for 8.1 percent of US retail sales, and that figure will only rise, as IHS Markit expects e-commerce retail sales to grow more than 10 percent per year through 2022.
Wal-Mart, which is the largest US retailer and
corporation overall, has adapted better than other retailers, although it has also had to close stores as it repositions itself in the e-commerce era. Looking to shore up its competitive position against giant e-tailers such as Amazon, Wal-Mart last year paid more than $3 billion for JET.com, which was only 1-year-old at the time of the deal but already offered 12 million stock-keeping units and processed an average of 25,000 orders daily.
Target Stores also is looking to make sure the wave of e-commerce growth does not pass it by, and plans to test next-day home delivery with an initial focus on household items and dry goods.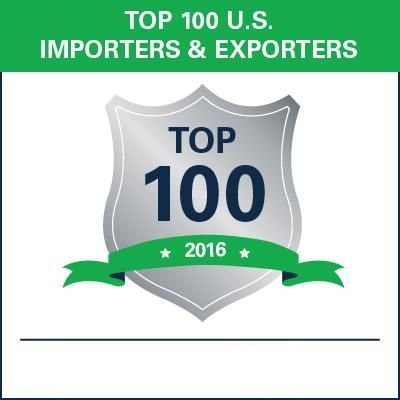 Sellers of electronics and appliances may face setbacks in 2017, albeit not as severe as those facing other areas of retail, such as clothing. IHS Markit expects sales of electronics and appliances to slip 0.8 percent year-over-year in 2017. Those difficulties should be short-lived however, as electronics and appliance sales are expected to grow at more than 2 percent until 2020. Major importers of electronics and appliances on the Top 100 rankings include LG, Best Buy, General Electric, and Whirlpool.
Wastepaper is the top US export, a fact reflected by America Chung Nam's position at the top of rankings. Several other wastepaper exporters also appear on the list, including Newport CH International, Potential Industries, JC Horizon, and Cycle Link.
US exporters of beef and other meat products on the list, including JBS and Tyson Foods, are likely to experience volume growth in 2017 as China reopened its market to US beef in May. The Chinese beef market is valued at $2.6 billion, according to the National Cattlemen's Beef Association. Beef exporters in the United States also may benefit from a scandal in Brazil in which food inspectors allegedly accepted payments to allow shipments of tainted meat from the world's largest meat producer. Bans on Brazilian meat from 21 suppliers remain in China, although the Chinese government has lifted a blanket ban on the country.
As home of the world's largest military, consuming 3.6 percent of GDP, it should come as no surprise that three of the Top 100 Exporters on the rankings are affiliated with the US armed forces: Defense Logistics Agency/Military Surface Deployment and Distribution Command, Army and Air Force Exchange Service, and Defense Commissary Agency.
With US containerized imports expected to rise 6.1 percent this year as exports inch up 0.8 percent, according to IHS Markit senior economist Mario Moreno, next year's rankings are sure to hold surprises, even without a trade war.
THE TOP 100 IMPORTERS
US FOREIGN TRADE VIA OCEAN CONTAINER TRANSPORT
2016 RANK
TOP 100 IMPORTERS
TEUS IN 2016
HEADQUARTERS
WEBSITE
SECTOR
NOTES
1
Wal-Mart
825,300
Bentonville, Ark.
walmartstores.com
Retail
To ramp up its e-commerce business, Wal- Mart has acquired Shoebuy, Moosejaw, Modcloth, and Jet.com.

2
Target
556,900
Minneapolis
target.com
Retail
Target will begin testing a next-day home delivery service, Target Restock, focusing on household items, beauty and personal care products, and dry goods.
3
Home Depot
366,000
Atlanta
homedepot.com
Retail
More than 2,200 stores in North America.
4
Lowe's
271,200
Mooresville, N.C.
lowes.com
Retail
5
Dole Food
226,700
Thousand Oaks, Calif.
dole.com
Fruit & Vegetables
Dole Food seeks to return to the stock markets after three years operating as a private company.
6
Samsung America
161,900
Ridgefield Park, N.J.
samsung.com
Conglomerate
Will cooperate with Magellan to supply
electric loggins devices to track trucker hours
in North America.
7
Family Dollar Stores/Dollar Tree
158,900
Matthews, N.C., Chesapeake, Va.
familydollar.com
Retail
8
Chiquita Brands International
143,600
Englewood Cliffs, N.J.
chiquita.com
Conglomerate
To roll out new global banana boxes, designed to improve freshness. Launched new service to California.
9
LG Group
143,000
Charlotte, N.C..
lgcorp.com
Fresh Fruit and Vegetables
Reportedly considering Tennessee for a new home appliances and television plant.
10
IKEA International
135,400
Conshohocken, Pa.
ikea.com
Retail
11
Philips Electronics North America
134,810
Andover, Mass.
usa.philips.com
Electronics
12
Nike
109,700
Beaverton, Ore.
nikebiz.com
Footwear & Apparel
13
Newell Brands
108,900
Hoboken, N.J.
newellbrands.com
Outdoor & Home Goods
Formerly Jarden. Among its products: Paper Mate, Coleman, Oster, Sunbeam, Mr. Coffee, Rubbermaid, Graco, First Alert, and Yankee Candle.
14
Costco Wholesale
105,300
Issaquah, Wash.
cosco.com
Retail
15
Sears Holding
97,400
Hoffman Estates, Ill.
sears.holdings.com
Retail-Consumer Goods
Sold Craftsman brand to Stanley Black & Decker in March 2017.
16
J.C. Penney
95,400
Plano, Texas
jcpenney.net
Retail
Opening 70 new Sephora store-in-store locations. Sephora will be available in 650 stores this year.
17
General Electric
87,100
Fairfield, Conn.
ge.com
Conglomerate
General Electric broke ground on a new Boston headquarters earlier this month. Campus to be named GE's Innovation Point.
18
Ashley Furniture Industries
80,800
Arcadia, Wis.
ashleyfurniture.com
Furniture
19
Heineken USA
71,500
White Plains, N.Y.
heinekeninternational.com
Beverages
Mexico ad agency to market imported brew Tecate in the United States.
20
Whirlpool
70,500
Benton Harbor, Mich.
whirlpool.com
Appliances
Whirlpool has acquired Yummly, a digital platform for recipes and cooking resources.
21
Williams-Sonoma
66,400
San Francisco
williams-sonomainc.com
Retail
22
Red Bull North America
61,300
Santa Monica, Calif.
redbull.com
Beverages
23
Gap Stores
58,300
San Francisco
gap.com
Retail
Gap commits to obtain 100 percent of its cottom from more sustainable sources by 2021.
24
Rooms to Go
57,100
Seffner, Fla.
roomstogo.com
Retail Furniture
25
Fresh Del Monte Produce
56,000
Coral Gables, Fla.
delmonte.com
Foods
26
Hankook Tire America
56,000
Wayne, N.J.
hankooktireusa.com
Tires
Its first US plant, in Clarksville, Tennessee, will begin production this year.
27
Mercedes Benz USA/Daimler Trucks
56,000
Atlanta, Portland
mbusa.com daimler.com
Automotive Goods
28
Pier 1 Imports
51,900
Fort Worth
pier1.com
Retail
29
Anheuser Busch InBev
49,800
St. Louis, Mo.
ab-inbev.com
Beverages
Anheuser-Busch Inbev and Keurig Green Mountain are working to develop an in-home alcohol drink system.
30
Kohl's
48,800
Menomonee, Wis.
kohls.com
Retail
31
Michelin North America
48,700
Greenville, S.C.
michelin.com
Mfg-Tire & Rubber
32
Toyota Tsusho America
48,400
Georgetown, Ky.
taiamerica.com
Conglomerate
A multimarket, multibusiness enterprise with manufacturing and logistics operations in the United States, Canada, Mexico and the Caribbean.
33
Toys 'R' Us
47,900
Wayne, N.J.
toysrusinc.com
Toys-Retail
In the process of revamping its website in an effort to draw more customers to its stores.
34
Staples
47,500
Framingham, Mass.
staples.com
Retail
35
BMW of North America
47,000
Woodcliff Lake, N.J. Spartansburg, S.C.
bmwusa.com bmwusfactory.com bmwgroup.com
Automotive Goods
36
Michaels Stores
46,800
Irving, Texas
michaels.com
Retail
37
Dorel Industries
46,700
Montreal
dorel.com
Furniture, Bicycles
Dorel Sports' brands include Cannondale,Mongoose, GT, and Schwinn.
38
VF Corp.
44,200
Greensboro, N.C.
vfc.com
Apparel and Footwear
Company to reshape its brand portfolio,focusing more on online sales and expanding in China and Asia. Sold Licensed Sports Group to Fanatics Inc.
39
Electrolux
42,900
Charlotte, N.C.; Stockholm
electrolux.com
Appliances
40
Sony Corp. of America
42,100
New York
sony.com
Electronics
41
Hanes Brands
42,000
Winston-Salem, N.C.
hanesbrands.com
Apparel
Apparel brands include Hanes, Champion, Playtex, Bali, Maidenform, and JMS/Just My Size.
42
Nestle US/Nestle Waters
42,000
Glendale, Calif.; St. Louis, Mo.; Stamford, Conn.
nestle.com
Food, Beverages, Pet Food
Nestle USA will move headquarters from Glendale, California, to Virginia to be closer to top customers and its factories in the eastern United States.
43
Hewlett-Packard
41,500
Palo Alto, Calif.
hp.com
Computer Technology
Company completes acquisition of Nimble Storage, manufacturer of flash-based hybrid storage.
44
TJX
41,000
Framingham, Mass.
tjx.com
Retail
Parent company of T.J. Maxx and Marshalls plans to open a new line of home goods stores this year.
45
Dollar General
39,800
Goodlettsville, Tenn.
dollargeneral.com
Retail
46
Southern Wines & Spirits of America
35,600
Miami
southernwine.com
Beverages
Southern Wines and Spirits of America and Southern Glazer's Wines and Spirits completed a merger in July 2016.
47
Mobis Parts America
34,800
West Point, Ga.; Mongomery, Ala.
mobisalabama.com
Auto Parts
48
SOL Group Marketing
34,700
Pompano Beach, Fla.
solgroup-marketing.com
Fruit
49
Arauco Wood Products
34,400
Atlanta
arauco.cl
Forest Products
Arauco has purchased a complete plant from Dieffenbacher for its new Grayling, Michigan, particleboard production facility.
50
Canon USA
34,400
Melville, N.Y.
canon.com
Photo Imaging
51
Big Lots
33,900
Columbus, Ohio
biglotscorporate.com
Closeout Retail
52
Panasonic Corp of North America
32,900
Newark, N.J.
panasonic.com
Electronics
Opened an automotive lithium-ion battery factory in Dalian, China, in April. In addition to increased production in Japan, the company will launch solar cell production in the United States this year.
53
Continental Tire
32,600
Fort Mill, S.C.
continentaltire.com
Tires
Company investing $10 million in an indoor tire test center in Uvalde, Texas.
54
Bed Bath & Beyond
31,600
Union, N.J.
bedbathandbeyond.com
Retail
55
Bob's Discount Furniture
31,500
Manchester, Conn.
mybobs.com
Furniture Retailer
56
Best Buy
31,100
Richfield, Minn.
bestbuy.com
Retail
Best Buy and Vivint Smart Home enter partnership. Smart home products, installation, monitoring to be offered by Best Buy stores this summer.
57
Sumitomo
30,200
New York
sumitomocorp.co.jp
Conglomerate
58
Goodyear Rubber & Tire
29,800
Akron, Ohio
corporate.goodyear.com
Tires
59
Macy's
29,500
Cincinnati
federated-fds.com
Retail
60
LKQ
28,200
Chicago
lkqcorp.com
Auto Parts
61
Hasbro
26,700
Pawtucket, R.I.
hasbro.com
Toys
62
Ross Stores
26,300
Pleasanton, Calif.
rossstores.com
Retail
63
Hyundai Motor Manufacturing
26,000
Montgomery, Ala.
hmmausa.com
Motor Vehicles
64
Gildan Activewear
25,900
Montreal
gildan.com
Apparel Mfg.
65
American Honda Motor, Honda North America
25,500
Torrance, Calif. Marysville, Ohio
honda.com americas.hondatrading.com
Automotive Goods
66
Conair
24,900
East Windsor, N.J.
conair.com
Appliances & Personal Care
67
Toyo Tires
24,600
Cypress, Calif.
toyotires.com
Tires
68
Mattel
24,500
El Segundo, Calif.
mattel.com
Toys
69
Itochu International
24,400
New York
itochu.com
Diversified
70
Caterpillar
24,200
Peoria, III.
caterpillar.com
Mfg-Machinery
Has acquired Yard Club, a construction equipment technology company.
71
Adidas Group
24,000
Portland, Ore.
adidas-group.com
Footwear and Apparel
Adidas has reached an agreement to sell its TaylorMade, Adams Gold, and Ashworth gold brands to a new affiliate of KPS Capacity Partners. The deal is expected to be completed later this year.
72
Kroger
24,000
Cincinnati, Ohio
ir.kroger.com
Retail
Kroger has purchased the equity of Murray's Cheese and its flagship location in New York City.
73
Kubota Tractor
23,800
Torrence, Calif.
kubota.com
Tractors and Agri Tools
Kubota introduced four new specialty agriculture tractors for narrow and lowclearance applications.
74
Coaster of America
23,000
Santa Fe Springs, Calif.
coastercompany.com
Furniture
Imports and distributes fine furniture in the United States and Mexico.
75
Nissan North America/Nissan Trading
23,000
Franklin, Tenn.; Farmington Hills, Mich.
nissanusa.com
Automobiles
76
Heritage Home Group
22,300
High Point, N.C.
heritagehome.com
Furniture
Heritage Home Group and Red Star Macalline have mapped a plan to open more than 100 Thomasville & Co. stores in major cities in China.
77
Bridgestone Americas
22,100
Nashville, Tenn.
bridgestoneamericas.com
Tires, Auto Products
78
Raymour & Flanigan Furniture
21,400
Liverpool, N.Y.
raymourflanigan.com
Retail
79
International Korea
20,900
80
Phillips Van Heusen
20,800
New York
pvh.com
Apparel
PVH has acquired True&Co., an e-commerce startup focusing on bras and other undergarments.
81
Haier America Trading
20,700
Wayne, N.J.
haieramerica.com
Appliances
82
Hon Hai Precision Industries
20,700
Houston
foxconn.com
Electronics
83
Skechers USA
20,700
Manhattan Beach, Calif.
skechers.com
Apparel and Footwear
84
Berkshire Hathaway
20,500
Throughout U.S.
berkshirehathaway.com
Diversified
85
Yokohama Tire
20,500
Fullerton, Calif.
yokohamatire.com
Tires
86
Shark Ninja
20,300
Newton, Mass
sharkninja.com
Appliances
The company reportedly is exploring a sale.
87
Tractor Supply
20,100
Brentwood, Tenn.
tractorsupply.com
Retail
88
L Brands
20,000
Columbus, Ohio
lb.com
Retail
89
Joann Fabric and Craft Stores
19,700
Hudson, Ohio
joann.com
Retail
90
Marubeni America
19,400
New York
marubeni-usa.com
Conglomerate
91
Walgreens Boots Alliance
19,300
Deerfield, III.
walgreensbootsalliance.com
Retail
Walgreens Boosts Alliance and Rite Aid say they have certified compliance with the Federal Trade Commission information request concerning their proposed merger. The companies will be free to merge July 7 if there is no decision by then.
92
Fonterra USA
19,200
Rosemont, Ill.
fonterra.com
Dairy Products
93
First Solar Electric
18,900
Tempe, Ariz.
firstsolar.com
Solar
94
Bissell Homecare
18,500
Grand Rapids, Mich.
bissell.com
Household
95
CVS Health
18,100
Woonsocket, R.I.
cvs.com
Retail
96
Dupont
18,100
Wilmington, Del.
dupont.com
Diversified
After receiving approvals from China and the European Union, DuPont and Dow Chemical await the greelight from the United States, Canada, Brazil, and Australia on their plan to merge.
97
Giti Tire USA
17,700
Rancho Cucamonga, Calif.
giti.com
Tires
98
Payless Shoe Source
17,100
Topeka, Kansas
payless.com
Retail
Payless has filed for Chapter 11 bankruptcy and will close 400 stores in the United States and Puerto Rico.
99
Euromarket Designs
17,000
Northbrook, III.
crateandbarrel.com
Retail
Parent company of Crate & Barrel.
100
Spectrum Brands Holdings
15,600
Middleton, Wisc.
spectrumbrands.com
Appliances
THE TOP 100 EXPORTERS
US FOREIGN TRADE VIA OCEAN CONTAINER TRANSPORT
2016 RANK
JOC TOP 100 EXPORTERS
TEUS IN
2016
HEADQUARTERS
WEBSITE
SECTOR
NOTES
1
America Chung Nam
333,900
City of Industry, Calif.
acni.net
Paper & Plastics Recyclables, Wine
In-house logistics teams build strong relationships with ocean, trucking, and transloading partners.
2
Koch Industries
211,400
Wichita, Kan.
kochind.com
Conglomerate
More than 300 manufacturing sites in the United States.
3
International Paper
141,400
Memphis
ipaper.com
Paper, Packaging
After suffering from decline in demand because of growth in digital media, the company's focus on fluff is expected to pay off. The adult diaper market is rapidly expanding.
4
Ralison International
128,600
Diamond Bar, Calif.
ralison.net
Paper, Recyclables
Supplies wastepaper to mills in China, Korea, and Vietnam. Using its own logistics team, Ralison is able to lower overall transporation costs.
5
DeLong
106,300
Clinton, Wisc.
delongcompany.com
Animal Feed, Grain
Originating from producers and elevators in the US heartland, grains and feedstuffs are transloaded into containers for shipment around the world.
6
International Forest Products
92,200
Foxboro, Mass.
ifpcorp.com
Paper, Recyclables
Products fulfill a wide range of packaging requirements, from fresh fruit and produce, to industrial, retail, and special electronic applications.
7
Shintech
74,800
Houston
shintechinc.com
Chemicals
Largest producer of polyvinyl chloride in the United States.
8
WM Recycle America
74,800
Houston
wm.com
Diversified, Recycler
Recycles glass, plastics, metals, paper grades, and fibers. A subsidiary of Waste Management.
9
WestRock
70,400
Norcross, Ga.
westrock.com
Paper, Packaging
10
Louis Dreyfus Commodities
69,500
Cordova, Tenn.
ldcom.com
Cotton, Diversified
A global merchandiser of commodities and processor of agricultural goods. Ths United States is the world's largest exporter of cotton and the third-largest producer. China is a leading consumer and importer.
11
Newport CH International
67,900
Orange, Calif.
newportchintl.com
Paper, Metals , Plastics Recyclables
Direct export shipper for the recycling industry, supplying numerous mills in China and other Asian countries.
12
JBS USA
67,000
Greeley, Colo.
jbssa.com
Refrigerated Meats, Poultry
Operations include hidecuring and wet blue tanning, providing raw materials for the production of shoes, handbags, and upholstery around the world.
13
Lansing Trade Group
63,700
Overland Park, Kansas
lansingtradegroup.com
Animal Feed and Grain
Exports corn, soybeans, dried distillers' grains, and other products from North America to Asian destinations.
14
Potential Industries
62,800
Wilmington, Calif.
potentialindustries.com
Paper, Recyclables
Located next to the ports of Long Beach and Los Angeles, Potential ships containerized recycled materials to Asian buyers.
15
JC Horizon
56,300
Ontario, Calif.
jchorizonltd.com
Paper, Metals, Plastics Recyclables
Exporter of various types of recycled materials to China, Taiwan, South Korea, Indonesia, and Thailand.
16
BMW of North America
52,800
Woodcliff Lake, N.J. Spartansburg, S.C.
bmwusa.com bmwusfactory.com bmwgroup.com
Automotive Goods
BMW assembly plant is in Spartansburg, South Carolina.
17
Scoular
50,400
Omaha, Ne.
scoular.com
Food, Grain, Feed
A 125-year-old company, Scoular provides diverse supply chain solutions for end-users and suppliers of grain, feed ingredients, and food ingredients around the globe.
18
ExxonMobil Chemical
49,300
Spring, Texas
exxonmobilchemical.com
Chemicals
Investing in new refining and chemicalmanufacturing projects in the US Gulf to expand its manufacturing and export capacity.
19
Sims Metal Management
47,800
New York
simsmm.com
Metals & Electronics, Recyclables
Metals and electronics recycling operations in five continents, including the United States and Australia.
20
Eastman Chemical
47,400
Kingsport, Tenn.
eastman.com
Chemicals, Fibers, Plastics
Manufactures chemicals, fibers, and plastics materials. One of the world's largest producers of specialty chemicals, raw materials, and additives for the tire industry.
21
Wal-Mart
47,000
Bentonville, Ark.
corporate.walmart.com
Retail
Wal-Mart has acquired several more e-commerce companies — Jet.com in August 2016, Shoe.Buy in January 2017, and Moosejaw in February. Jet.com acquired ModCloth in March. Wal-Mart also increased is stake in China's JD.com, the second-largest ecommerce entitity in China.
22
Cargill
46,500
Wayzata, Minn.
cargill.com
Conglomerate
The largest supplier of ground beef in the world.
23
DuPont
45,700
Wilmington, Del.
dupont.com
Diversified
DuPont will sell a large portion of its crop protection business to FMC to win EU approval for its merger with Dow Chemical. US regulators have yet to approve that merger.
24
Cycle Link USA
45,200
Diamond Bar, Calif.
cyclelink.com
Paper, Recyclables
A subsidiary of Hong Kongbased Cycle Link International, which has established a global procurement system of recycled fiber covering all continents.
25
Weyerhaeuser
45,100
Federal Way, Wash.
weyerhaeuser.com
Forest, Wood Products
Completed sale of Cellulose Fibers pulp mills to International Paper in December 2016. Will focus on timber, land, and forest products.
26
Archer Daniels Midland
45,000
Chicago, III.
adm.com
Agriculture
Global value chain includes approximately 500 crop procurement locations and 250 ingredient manufacturing facilities.
27
BASF North America
44,600
Florham Park, N.J.
basf.us
Chemicals-Diversified
The second-largest producer and marketer of chemicals and related products in North America.
28
Domtar
44,400
Fort Mill, S.C.; Montreal
domtar.com
Paper, Forest Products
Serving customers in more than 50 countries, Domtar designs, manufactures and distributes a variety of pulp, paper, and personal care products, from copy paper to baby diapers.
29
Defense Logistics Agency/Military Surface Deployment and Distribution Command
43,400
Fort Belvoir, Va. Scott Air Force Base, III.
dla.mil sddc.army.mil
Military Goods
The DLA handles procurement of equipment and supplies for all military services worldwide. The SDDC Army command partners with commercial industry to deliver origin-todestination global solutions for Department of Defense equipment and supplies.
30
Tyson Foods
43,000
Springdale, Ark.
tysonfoods.com
Refrigerated Meats, Poultry
Tyson's chicken, beef, pork, and prepared foods products are sold in more than 130 countries.
31
Cedarwood-Young (Allan Co.)
40,800
Baldwin Park, Calif.
allancompany.com
Paper, Recyclables
A processor, broker, packer, and exporter of recovered fiber. The company does business as Allan Co., engaging in recycling paper, aluminum, plastic, non-ferrous metals, glass, and e-waste commodities.
32
Gavilon
40,100
Omaha, Ne.
gavilon.com
Animal Feed, Grain
Agriculture and fertilizer commodity management firm with 300 facilities worldwide.
33
Smithfield Foods
36,300
Smithfield, Va.
smithfieldfoods.com
Food, Refrigerated
New division of Smithfield Foods aims to grow skin and organs for humans. Company puchased in 2013 by division of Chinabased WH Group.
34
Rayonier Advanced Materials
36,000
Jacksonville, Fla.
rayonieram.com
Chemicals
Chemical company specializing in high-value cellulose used in a wide range of consumer products.
35
Al Dahra ACX Global
35,300
Bakersfield Calif.
acxpacific.com
Animal Feed, Grain
In recent years, ACX Global began exporting hay to China, United Arab Emirates, and other Middle Eastern countries for dairy and beef animals as well as camels, sheep, and goats.
36
PriceSmart
35,200
San Diego
pricesmart.com
Membership Warehouse Club
Owns and operates 39 warehouse clubs in Central America, the Caribbean, and Colombia.
37
Interstate Commodities
34,400
Troy, N.Y.
icigrain.com
Animal Feed, Grain
Hansen-Mueller purchased Interstate Commodities in November 2016. Hansen- Mueller purchased new feed bagging facility in Fremont, Nebraska, in February 2017.
38
Anderson Hay & Grain
33,300
Ellensburg, Wash.
anderson-hay.com
Animal Feed
Anderson Hay & Grain will enter a joint venture with Agthia Group of the United Arab Emirates. A new company being formed will primarily distribute US forage products in the United Arab Emirates under the new brand Agrivita Marabe.
39
CellMark Group
33,100
Norwalk and Stamford, Conn.; Pearl River, N.Y.; San Rafael, Calif.
cellmark.com
Diversified
Chemicals, metals, and energy divisions complement its paper, packaging, and recylcling portfolio. Sources 80 countries with sales in 120 markets.
40
Ravago Group
32,700
Orlando, Fla.
ravago.com
Plastics, Rubber & Chemicals
In May 2016, Ravago diversified its commercial activies in chemical distribution with offices and warehouses in Europe, Turkey, Dubai, Africa, and the United States.
41
Ekman Group
32,600
Gothenburg, Miami, Hong Kong
ekman-co.se
Paper, Recyclables
Offers wide range of services covering the forest products supply chain.
42
Caterpillar
32,400
Peoria, III.
caterpillar.com
Mfg-Machinery
$9.6 billion in exports from the United States — $3.6 million to East Africa and Middle East, $2.7 billion to Asia-Pacific, $1.9 billion to Latin America, $1.5 billion to Canada.
43
AJC International
32,100
Atlanta
ajcfood.com
Food, Refrigerated
Specializing in refrigerated foods, AJC is a leading global poultry marketer.
44
Army and Air Force Exchange Service
31,500
Dallas
shopmyexchange.com
Retail
The Exchange provides soldiers and airmen with the services and merchandise they need to make their lives more comfortable. It operates more than 3,100 facilities worldwide, in more than 30 countries, five US territories, and 50 states.
45
Dow Chemical
30,600
Midland, Mich.
dow.com
Diversified
The European Commission has approved the $130 billion merger of Dow and DuPont. Regulators in the United States, Brazil, China, Canada, and Australia still have to approve the deal.
46
Gildan Activewear
29,000
Montreal
gildan.com
Apparel Mfg.
Completed the acquisition of Alstyle Apparel in May 2016, Peds Legwear in August 2016, and American Apparel in February 2017.
47
Mega Fiber
29,000
Brea, Calif.
NO WEB
Paper, Recyclables
48
Mercedes Benz USA
28,800
Atlanta
mbusa.com daimler.com
Automotive Goods
Unit of Daimler of Germany.
49
CHS
28,000
Inver Grove Heights, MN
chsinc.com
Agriculture, Energy, Food
CHS is a farmer-owned cooperative with a diverse array of economic interests.
50
Olam International
27,900
Fresno, Calif.
olamgroup.com
Cotton, Spices & Vegetables
Olam and Sanyo Foods' joint venture — Nutrifoods Ghana — opened in March an expanded biscuit production facility in Tema, Ghana, which manufactures high-quality biscuits for the domestic and export markets.
51
Genesis Resource Enterprises
27,800
Springfield, N.J.
egreen4u.com
Paper, Recyclables
Exports paper, mostly to Asia.
52
Rio Tinto Minerals
27,100
Greenwood Village, Colo.
riotinto.com
Minerals
53
Imerys
25,300
Roswell, Ga.
imerys.com
Minerals
54
Green Plains Trade
25,200
Omaha, Ne.
gpreinc.com
Animal Feed
55
Toyota Tsusho America
25,000
New York, Georgetown, Ky.
taiamerica.com
Automotive Goods
Kobe Aluminum Automotive Products, a US joint venture, plans to further expand production facilities to meet growing demand in North America for aluminum forged suspension products.
56
Ascend Performance Materials
23,500
Houston
ascendmaterials.com
Chemicals, Fibers, Plastics
Expanded its line of specialty amines in March, adding three new grades for use in energy, coatings, and asphalt applications.
57
Dole Food
23,500
Thousand Oaks, Calif.
dole.com
Fruit & Vegetables
Dole Food seeks to return to the stock markets after three years operating as a private company.
58
Berkshire Hathaway Companies
23,300
Throughout U.S.
berkshirehathaway.com
Diversified
59
OGO Fibers
22,700
Richmond Hill, Ontario; Summerville, S.C.
ogofibers.com
Paper, Recyclables
60
3M
22,600
St. Paul, Minn.
3m.com
Diversified
Unveiled 3M Scotchlite Reflective Material designed to help athletic apparel designers with a high-performance relective materials to create active wear.
61
Michelin North America
22,000
Greenville, S.C.
michelin.com
Mfg-Tire & Rubber
62
Chemours
22,000
Wilmington, De.
chemours.com
Chemicals
Spun off from Dupont in 2015.
63
Procter & Gamble
22,000
Cincinnati
pg.com
Mfg-Consumer Products
Fiscal 2016 sales totaled $65.3 billion, with 56 percent of sales outside the United States.
64
John Deere
21,500
Moline, III.
deere.com
Mfg-Equipment
Company to debut new range of high-spec tractors this year.
65
Graphic Packaging Holding
21,500
Atlanta, Ga.
graphicpkg.com
Paper Products
Exports packaging for the food, beverage, household products, and personal care industries.
66
American Honda Motor, Honda Trading America
19,700
Torrance, Calif. Marysville, Ohio
honda.com americas.hondatrading.com hondainamerica.com
Automotive Goods
67
Ford Motor
19,700
Dearborn, Mich.
ford.com
Mfg-Automobiles
Sales of Ford vehicles in China plummeted 21 percent in the first quarter of 2017, according to Seeking Alpha, after the government rolled back a tax subsidy.
68
Jordan Trading
19,600
Kingston, N.Y.
business.ulsterchamber.org
Paper, Recyclables
69
Prairie Creek Grain
19,600
Elwood, III.
pcgrain.com
Grain, Animal Feed
70
Nestle
19,500
Glendale, Calif.; St. Louis, Mo.; Stamford, Conn.
nestle.com
Food, Beverages, Pet Food
The world's largest food and beverage company.
71
Fornazor International
19,400
Hillsdale, N.J.
fornazor.com
Animal Feed
Fornazor exports and trades grains, vegetable proteins, marine proteins, and animal proteins primarily to Asian and the Middle Eastern markets.
72
Mills Brothers International
19,400
Seattle
millsbros.com
Food, Grain, Feed
Family owned export trading company specializing in major grains and oilseeds, and animal feeds.
73
Perez Trading
18,400
Miami
pereztrading.com
Paper, Packaging
A global source for paper, packaging board, and technology in the graphics arts industry.
74
Advanced Steel Recovery
18,100
Fontana, Calif.
advancedsteel.com
Metals, Recyclables
Advanced Steel Recovery invented FASTek, designed to fully automate the containerization of scrap metal.
75
Alco Iron and Metal
17,600
San Leandro, Calif.
alcometals.com
Matal, Recyclables
76
David J. Joseph
17,500
Cincinnati, Ohio
djj.com
Metal, Recyclables
77
Sonoco Products
17,400
Hartsville, S.C.
sonoco.com
Packaging
Global packaging company now offers PromoPeel label technology for flexible packaging.
78
Sino Paper
17,000
Anaheim, Calif.
sino-paper.com
Paper, Recyclables
79
KaMin
16,700
Macon, Ga.
kaminllc.com
Minerals-Clay
80
Resource Management Cos. Intl.
16,500
City of Industry, Calif.
rmcrecycle.com
Paper, Recyclables
Handles the sale and export of materials generated in its material recovery facilities, and purchases wastepaper from other recycling companies for export to Asia.
81
Active Minerals International
16,100
Sparks, Md.
activeminerals.com
Minerals
AMI is a global leader in the production and marketing of kaolin and gel quality attapulgite clay minerals.
82
Vinmar International
16,000
Houston
vinmar.com
Chemicals, Plastics
83
Mitsui & Co.
15,900
New York
mitsui.com
Conglomerate
84
G.A. Paper Intl.
15,700
Tampa, Fla.; Markham, Canada
gapaper.com
Paper, Recyclables
85
KapStone Paper and Packaging
15,500
Northbrook, III.
kapstonepaper.com
Paper, Paper Products
Acquired Central Florida Box in July 2016, and Associated Packaging in February this year.
86
Defense Commissary Agency
14,500
Fort Lee, VA
commissaries.com
Groceries, Household Items
Operates global chain of commissaries providing groceries to military personnel, retirees, and their families.
87
Parkdale Mills
14,300
Gastonia, N.C.
parkdalemills.com
Spun Yarns
A major manufacturer of spun yarns and organic cotton supplier.
88
Kimberly-Clark
14,200
Dallas
kimberly-clark.com
Mfg-Consumer Goods
89
Baillie Lumber
14,100
Hamburg, N.Y.
baillie.com
Forest, Wood Products
Provides hardwood lumber to manufacturers and distributors serving them.
90
Border Valley Trading
14,100
Brawley, Calif.
bordervalley.net
Animal Feed, Grain
Supplies forage products to domestic and global customers, focusing on Asian markets.
91
Sears Holdings
14,000
Hoffman Estates, III.
sears.holdings.com
Retail-Consumer Goods
Sold Craftsman brand to Stanley Black & Decker in March 2017.
92
Staple Cotton Cooperative Association
14,000
Greenwood, Miss.
staplcotn.com
Cotton
93
Zen Trading
13,600
San Francisco, Calif.
NO WEB
Animal Feed, Grain
94
Central National Gottesman
13,000
Purchase, N.Y.
cng-inc.com
Paper Products, Pulp, Forest Products
Will acquire KFI Technology, a specialized business focused on wideformat printing.
95
Thiele Kaolin Road
12,800
Sandersville, Ga.
thielekaolin.com
Minerals
96
Calaway Trading
12,600
Ellensburg, Wash.
calagri.com
Animal Feed & Forage
Exports hay and agricultural commodity products from western United States to markets including Korea, Japan, China, and United Arab Emirates.
97
Anheuser Busch InBev
12,400
St. Louis, Mo.
anheuser-busch.com
Beverages
98
Sappi Cloquet
12,300
Cloquet, Minn.
sappi.com
Paper, Pulp, Paper Products
99
Resolute Forest Products
12,100
Montreal
resolutefp.com
Paper, Pulp, Wood Products
Its products, including market pulp, tissue, wood products, newsprint, and spcialty papers, are marketed in more than 70 countries.
100
Zen-Noh
11,900
New York; Covington, La.; Pasco, Wash.
zennoh.or.jp zhiusa.com
Animal Feed/Grain
Source: joc.com