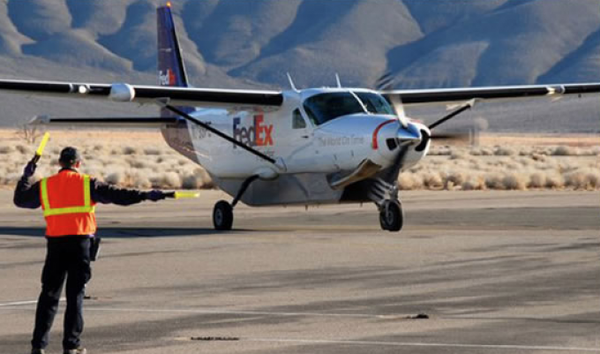 FEDEX has promoted its Purple Runway Pathways Programme at the National Intercollegiate Flying Association SAFECON 2018 competition at Indiana State University in an effort to address the industry-wide shortage of up-and-coming pilots.
In a speech at Delta State University in Cleveland, Mississippi, site of the only aviation school in the US state college system, FedEx CEO Fred Smith said Purple Runway will play an important role in the continued growth and success of the company and its feeder operators, reported Memphis Daily News.
Feeder operators are independent companies whose pilots fly planes that the express delivery firm provides for smaller routes, such as Buffalo, New York to Indianapolis, Indiana and Memphis to Birmingham, Alabama.
Under the programme, feeder pilots who qualify will go to the front of the line for FedEx pilot job interviews. The pilot jobs - careers flying big jets - pay an average of US$200,000 annually.
Manager for air operations Tom Jones said: "Our feeders, though, were struggling a little bit with getting applicants. The military's having the same issue. The pilot shortage is becoming kind of a problem. In 10 years, we may not have enough pilots."
FedEx Express currently employs 4,500 pilots to fly its big jets. Purple Runway was created for career development of pilots at feeders, to assist feeder operators with recruiting of high-quality candidates and to provide an early opportunity to evaluate feeder pilots to possibly fly big jets.
As part of the Purple Runway effort, the company and the feeders will collaboratively reach out to college students with an interest in aviation careers. However, aviation careers and the "maturation process" requires extensive time, expense and commitment, and there's been a 10 year decline in enrolments.
With four years of college, a year of flight school and additional on-the-job experience, the process can take several years. Under the Purple Runway programme, qualified college-educated pilots hired by the feeders can expect to get an audience with FedEx Express within 36 months.
Officials believe the quicker route to FedEx will address the shortage that's partly due to retirements. The FAA requires commercial pilots to retire at age 65. As a result, there will be an estimated shortage of 60,000 pilots over the next 20 years.
Earlier this year, the company announced steps to modernise its feeder fleet with the purchase of 30 ATR 72-600F aircraft and an option to buy 20 more, and a purchase agreement for 50 new-design Cessna SkyCourier 408F aircraft, with the option to buy up to 50 more.