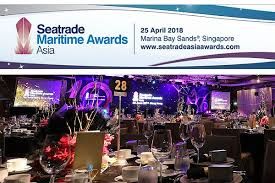 SINGAPORE's APL has been honoured with the "Ship Operator Award" at the Seatrade Maritime Awards Asia in acknowledgement of the shipping line's excellent performance in customer service innovation, ship operations, commercial development and environmental protection.
CEO Nicolas Sartini said: "This is a momentous win as APL celebrates 170 years of global shipping. This award reflects the confidence that shippers have in the APL brand. At the heart of our customer-first culture is APL's innovative spirit which will live on for many more years to come."
The accolade comes after the company achieved a year of positive results. In 2017, the ocean liner carried five million TEU of cargo and contributed US$340 million to the CMA CGM group's operating income. The year saw APL introducing 28 new and enhanced services and offering 38 services within the OCEAN Alliance.
Maintaining its growth momentum, APL unveiled 10 new services in the first four months of this year. Among them is the Eagle Express X (EXX) service, a weekly China to US west coast ocean freight product that will launch in July.
The EXX service promises an 11-day transit from Shanghai to Los Angeles, swift cargo discharge with next day availability at an off-dock facility, certainty of equipment and space at direct Asian load ports; as well as guaranteed chassis in Los Angeles.