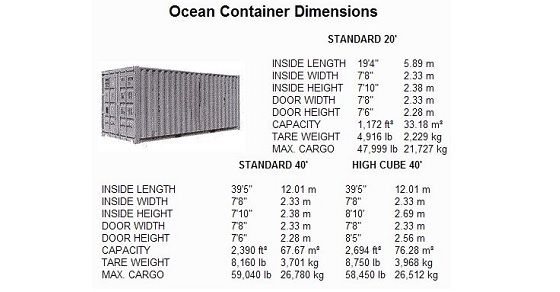 Container size 20'/40'
Dimensions

Standard 20'

Standard 40'

High Cube 40'

Inside length

19'4"

5.89 m

39'5"

12.01 m

39'5"

12.01 m

Inside width

7'8"

2.33 m

7'8"

2.33 m

7'8"

2.33 m

Inside height

7'10"

2.38 m

7'10"

2.38 m

8'10'

2.69 m

Door width

7'8"

2.33 m

7'8"

2.33 m

7'8"

2.33 m

Door height

7'6"

2.28 m

7'6"

2.28 m

8'5"

2.56 m

Capacity

1,172 ft³

33.18 m³

2,390 ft³

67.67 m³

2,694 ft³

76.28 m³

Tare weight

4,916 lb

2,229 kg

8,160 lb

3,701 kg

8,750 lb

3,968 kg

Payload

47,999 lb

21,727 kg

59,040 lb

26,780 kg

58,450 lb

26,512 kg

Gross weight

52,915 lb

23,956 kg

67,200 lb

30,481 kg

67,200 lb

30,480 kg
Open-top Container
Dimensions

Open Top 20'

Open Top 40'

Inside length

19'4"

5.89 m

39'5"

12.01 m

Inside width

7'7"

2.31 m

7'8"

2.33 m

Inside height

7'8"

2.33 m

7'8"

2.33 m

Door width

7'6"

2.28 m

7'8"

2.33 m

Door height

7'2"

2.18 m

7'5"

2.26 m

Capacity

1,136 ft³

32.16 m³

2,350 ft³

66.54 m³

Tare weight

5,280 lb

2,394 kg

8,490 lb

3,850 kg

Payload

47,620 lb

21,600 kg

58,710 lb

26,630 kg

Gross weight

52,900 lb

23,994 kg

67,200 lb

30,480 kg
Reefer Container
Dimensions

Reefer 20'

Reefer 40'

Inside length

17'8"

5.38 m

37'8"

11.48 m

Inside width

7'5"

2.26 m

7'5"

2.26 m

Inside height

7'5"

2.26 m

7'2"

2.18 m

Door width

7'5"

2.26 m

7'5"

2.26 m

Door height

7'3"

2.20 m

7'0"

2.13 m

Capacity

1,000 ft³

28.31 m³

2,040 ft³

57.76 m³

Tare weight

7,040 lb

3,193 kg

10,780 lb

4,889 kg

Payload

45,760 lb

20,756 kg

56,276 lb

25,526 kg

Gross weight

52800 lb

23949 kg

67056 lb

30,415 kg
Container Flatrack
Dimensions

Flat Rack 20'

Flat Rack 40'

Inside length

18'5"

5.61 m

39'7"

12.06 m

Inside width

7'3"

2.20 m

6'10"

2.08 m

Inside height

7'4"

2.23 m

6'5"

1.95 m

Tare weight

5,578 lb

2,530 kg

12,081 lb

5,479 kg

Payload

47,333 lb

21,469 kg

85,800 lb

38,918 kg

Gross weight

52,911 lb

23,999 kg

97,881 lb

44,460 kg
ISO 668 - Series 1 freight containers — Classification, dimensions and ratings is an ISO international standard which classifies intermodal freight shipping containers and standardises their size and weight specifications. Introduced in 1968, ISO 668 regulates both external and internal dimensions of containers, as well as the minimum door opening size, where applicable. It also specifies the associated gross weight ratings, and requirements for load transfer areas in the base structures of containers, since amendment 1 of 2005.
The current edition of the standard is version E of 2013, which integrates version E from 1995 with its two amendments of 2005.
ISO designation *

Common Name
External dimensions
Minimum internal dimensions
Maximum Gross Mass
Length
Height
Width
Length
Height
Width
1EEE **
45 foot high cube
13.716m/ 45'0"
2.896m/ 9'6"
2.438m/ 8'0"
13.542m (44'5.15")
2.655m(8'8.5")
2.330m (7'7.73")
30480 kg/ 67200 lbs
1EE **
45 foot standard
2.591m/ 8'6"
2.350m(7'8.5")
1AAA
40 foot high cube
12.192m/ 40'0"
2.896m/ 9'6"
2.438m/ 8'0"
11.998m (39'4.375")
2.655m(8'8.5")
2.330m (7'7.73")
30480 kg/ 67200 lbs
1AA
40 foot standard
2.591m/ 8'6"
2.350m(7'8.5")
1A
40 foot
2.438m/ 8'0"
2.197m(7'2.5")
1BBB
30 foot high cube
9.125m/ 29'11.25"
2.896m/ 9'6"
8.931m (29'3.6")
2.655m(8'8.5")
30480 kg/ 67200 lbs***
1BB
30 foot standard
2.591m/ 8'6"
2.350m(7'8.5")
1B
30 foot
2.438m/ 8'0"
2.197m(7'2.5")
1CC
20 foot standard
6.058m/ 19'10.5"
2.591m/ 8'6"
5.867m (19'3")
2.350m(7'8.5")
1C
20 foot
2.438m/ 8'0"
2.197m(7'2.5")
1D
10 foot
2.991m/ 9'9.75"
2.438m/ 8'0"
2.802m (9'2.3")
2.197m(7'2.5")
10160 kg/ 22400 lbs
1E ****
6½ foot
1.968m/ 6'5.5"
2.438m/ 8'0"
2.438m/ 8'0"
2.197m(7'2.5")
2.330m (7'7.73")
7110 kg/ 15700 lbs
1F ****
5 foot
1.460m/ 4'9.5"
2.438m/ 8'0"
2.197m(7'2.5")
5080 kg/ 11200 lbs
* The standard also recognises containers less than 8 feet in height, under the designations 1AX, 1BX, 1CX and 1DX, with specifications the same as other containers of their length.
** Forty-five foot containers were added to the standard per Amendment 2 of 2005.
*** The maximum gross mass rating of twenty and thirty foot units was updated with Amendment 1 of 2005. Until then, the MGW for 20-ft units was 24,000 kg / 52,900 lbs, and for 30-ft units 25,400 kg / 56,000 lbs.
**** Six and a half and five foot containers (type 1E and 1F) are not in the current edition ISO 668 standard, but were standardised in previous editions, and are still manufactured.
The so-called width of these small-size containers may be perceived as their length, as it is their greatest horizontal dimension, and their doors are typically in the short end(s).
Container width
According to ISO 668:1995, all ISO containers have width of 2.438m (8'). When you hear someone mentions different types of containers, they all have the same width.
Container height
Currently, there're two main types of container height: standard and high. A standard container is 8'6" in height, while a high box is 9'6". The fact that a receptacle is called a standard or a high container is just a matter of habit. Years ago, 8' high containers were popular and considered standard. These are rarely in use today, and instead, a standard container now means a 8'6".
Container length
The length of a 40' (12.192 m) long container is considered a starting basis. Containers with shorter nominal sizes (e.g. 30', 20', 10') have lengths so as for when these combining together, with distance of 3" between two of them, the total length is equal to 40'.
Such 3" appears to be safety tolerance between two containers sitting next each other, so as to those vans in practice can be completely fit when stacking many tiers on top of one another (in container yards, depots, or on board of container ships).
Due to such a 3" distance, boxes other than 40' (e.g. 20') are shorter than what their nominal length suggests. For example, a 20' container is not exactly 20' long, in fact its real length is 19' 10,5" (20' minus half of 3").
Related articles
Source: wikipedia